'You're wasting everybody's time': Tennis star Paire PENALIZED for 'not trying' in Wimbledon showdown with Schwartzman (VIDEO)
French tennis star Benoit Paire was heckled by the Wimbledon crowd and penalized by the match umpire amid accusations that he was "not trying" in his first-round capitulation against Argentina's Diego Schwartzman. Read Full Article at RT.com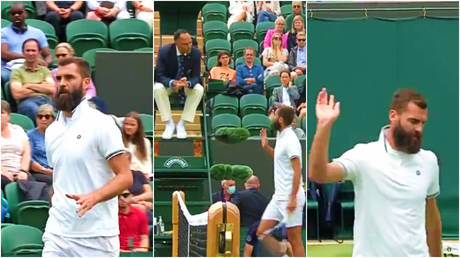 French tennis star Benoit Paire was heckled by the Wimbledon crowd and penalized by the match umpire amid accusations that he was "not trying" in his first-round capitulation against Argentina's Diego Schwartzman.
Paire was behind by a score of 6-3, 6-4, 5-0 in their court two clash when he launched a series of soft returns into the net from Schwartzman serves, prompting the courtside official to be cited for a violation, with "poor sportsmanship" being given as the reason.
The Frenchman promptly returned to his seat and demanded that the umpire, Mohamed Lahyani, call a physio to the court - and request which was denied by the official.
"I'm not going to call the physio," he said. "You have to show more sportsmanship. You have to try to do your best."