Tokyo Olympics star and world record holder Agnes Jebet Tirop, 25, found stabbed to death in home in Kenya
Kenyan Olympic star Agnes Jebet Tirop, who placed fourth in the 5,000m at the recent Games in Tokyo, has been found dead at her home with stab wounds to her abdomen. Read Full Article at RT.com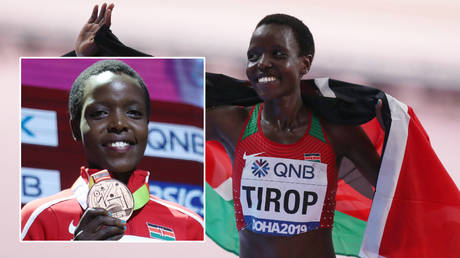 Kenyan Olympic star Agnes Jebet Tirop, who placed fourth in the 5,000m at the recent Games in Tokyo, has been found dead at her home with stab wounds to her abdomen.
Tirop's death was confirmed by Barnaba Korir, the chair of Athletics Kenya, and comes just weeks after her record-breaking run at the Road To Records event in Germany, where she smashed the women's record for the 10 kilometers, set by Moroccan Asmae Leghzaoui in 2002, by a staggering 28 seconds.
Her death is understood to have occurred in the town of Iten, a high-altitude training area in Western Kenya – with local police launching an investigation into the circumstances surrounding the incident.
"Kenya has lost a jewel who was one of the fastest rising athletics giants on the international stage thanks to her eye-catching performances on the track," said Athletics Kenya.
October 13, 2021
"Tirop was found dead at their home in Iten. We are still working to unearth more details surrounding her demise."
"I urge our law enforcement agencies led by the [National Police Service Kenya] to track down and apprehend the criminals responsible for the killing of Agnes so that they can face the full force of the law," added Kenyan president Uhuru Kenyatta.
A report by RunnersWorld, as well as the press release from Athletics Kenya, state that Tirop's husband was allegedly involved in her death.
HEARTBREAKING!