'This dude is so full of sh*t': UFC boss White slams Francis Ngannou's agent after announcing interim UFC heavyweight title bout
Dana White and the UFC have taken the unusual step of creating an interim heavyweight title match between Ciryl Gane and Derrick Lewis just three months after Francis Ngannou's title win - and the Predator's camp aren't happy. Read Full Article at RT.com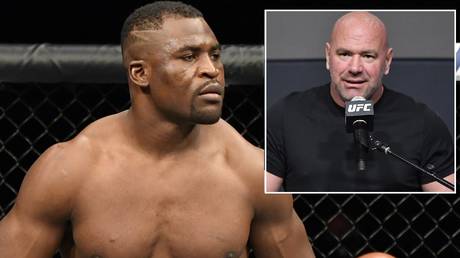 Dana White and the UFC have taken the unusual step of creating an interim heavyweight title match between Ciryl Gane and Derrick Lewis just three months after Francis Ngannou's title win - and the Predator's camp aren't happy.
It was revealed late Monday that top heavyweight contenders Gane and Lewis will duel for the interim heavyweight crown in the UFC 265 headliner on August 7 - which just so happens to be the date that the UFC were targeting for Ngannou's previously-rumored first title defence against Lewis.
However, the Cameroonian slugger - who is the third African-born champion in UFC history - had requested additional time to prepare after claiming the world title with a second-round knockout of former champ Stipe Miocic, following which he visited his homeland to parade his UFC belt to a hero's welcome. 
Ngannou's representative Marquel Martin subsequently stated that he was "shocked" that the UFC would create an interim title so soon after his fighter had won the belt - particularly after Ngannou was offered no such incentive while he awaited Miocic and Daniel Cormier to complete their three-fight series for the heavyweight crown. 
White, though, rarely takes kindly to dissent from a fighter's agent - and launched a furious tirade at Martin on social media.
"This dude is so full of sh*t!" White wrote as a comment on ESPN reporter Brett Okamoto's Instagram page.
"He knows exactly what's going on and isn't 'shocked' at all. Because we told him several times this was coming. His management is incompetent and hopefully Francis starts taking a look at new people to help his career."
I remember my interim title fight against Jairzinho .... oh wait