Teen who filmed George Floyd's death gets special citation by Pulitzer Prize board
The Pulitzer Prize board has honored Darnella Frazier, whose video of George Floyd's arrest in Minneapolis launched the Black Lives Matter protests. This year's prizes remained in the key of mainstream media and identity politics. Read Full Article at RT.com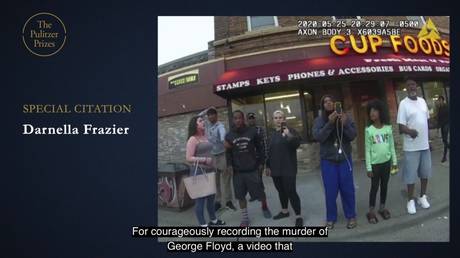 The Pulitzer Prize board has honored Darnella Frazier, whose video of George Floyd's arrest in Minneapolis launched the Black Lives Matter protests. This year's prizes remained in the key of mainstream media and identity politics.
Frazier, now 18, was cited for "courageously recording the murder of George Floyd, a video that spurred protests against police brutality around the world, highlighting the crucial role of citizens in journalists' quest for truth and justice," at the end of Friday's ceremony announcing the 2021 Pulitzer Prize winners.
Congratulations to #DarnellaFrazier. #Pulitzer pic.twitter.com/MdXk1Sspqo

— The Pulitzer Prizes (@PulitzerPrizes) June 11, 2021
Her video became a key piece of evidence at the trial of former officer Derek Chauvin, convicted in April of murdering Floyd. Frazier also delivered emotional testimony at the trial.
The Pulitzer decision was applauded by, among others, the Minnesota chapter of the American Civil Liberties Union, which called Frazier "brave," and said her courage had "helped ignite the Reimagine Policing movement."
Congrats to the @StarTribune for its Pulitzer for powerful and crucial #GeorgeFloyd reporting. A free press matters. How wonderful that the brave @DarnellaFrazier won a special citation! Her courage helped ignite the #ReimaginePolicing movement. https://t.co/VwWKmlhlMf

— ACLU of Minnesota (@ACLUMN) June 11, 2021
There were few surprises among the winners of the 105th Pulitzer. Winning entries focused either on the Covid-19 pandemic, the summer of riots, or politics of race. The New York Times won in the Public Service category, for its "courageous, prescient, and sweeping coverage of the coronavirus pandemic that exposed racial and economic inequities, government failures in the US and beyond, and filled a data vacuum," thereby helping its readers be "better prepared and protected."
The Explanatory Reporting prize was split between The Atlantic, for a "series of lucid, definitive pieces" that "anticipated the course" of Covid-19 – and Reuters, for an investigation into the qualified immunity of the US police. 
The board moved BuzzFeed's nomination from this category to International Reporting, resulting in the outlet's first-ever Pulitzer for its coverage of the alleged genocide of Uighurs in China.