'Take the fight': Jake Paul in backstage clash with Tommy Fury as brother of heavyweight boxing king demands showdown (VIDEO)
Novice boxers Jake Paul and Tommy Fury were involved in a backstage fracas after their fights on Sunday night in Cleveland, and challenged one another to a showdown of unbeaten chancers to settle a long-standing feud. Read Full Article at RT.com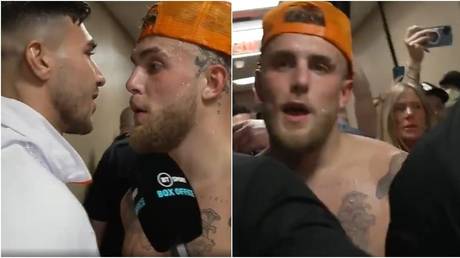 Novice boxers Jake Paul and Tommy Fury were involved in a backstage fracas after their fights on Sunday night in Cleveland, and challenged one another to a showdown of unbeaten chancers to settle a long-standing feud.
A reality TV celebrity and the half-brother of heavyweight champion Tyson Fury, Tommy won his fight on the undercard of Paul's main event against Tyron Woodley.
Booed for the duration of the bout by the crowd in Paul's homestate Ohio, the Brit beat MMA scrapper Anthony Taylor on the cards 40-36.
"I feel good, it was a good performance," said the Mancunian in the ring following his win.
Tommy Fury calls out Jake Paul