Military fires 'live bullets' at protesters backing civilian government, information ministry says, after forces stage coup
Tens of thousands have taken to streets in Sudan's capital Khartoum and the city of Omdurman, after troops arrested the prime minister in a coup. The Ministry of Information claims troops have fired on pro-government protesters. Read Full Article at RT.com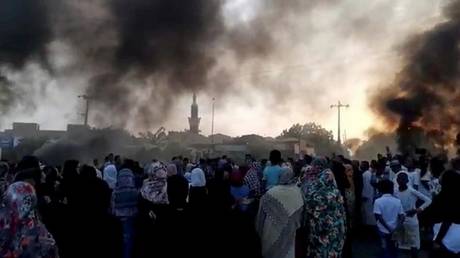 Tens of thousands have taken to streets in Sudan's capital Khartoum and the city of Omdurman, after troops arrested the prime minister in a coup. The Ministry of Information claims troops have fired on pro-government protesters.
The streets of Khartoum and Omdurman were full of protesters on Monday after the Ministry of Information relayed a plea from detained Prime Minister Abdalla Hamdok. "Occupy streets to defend the revolution," the ministry posted on its Facebook page, allegedly echoing a message shared with the government department by Hamdok. In a statement shared with Reuters, the ministry also said it is inviting everyone to march "until the coup attempt is brought down."
Footage shared online shows that Sudanese citizens responded to the plea of their transitional government, which was formed in 2019. As people marched through the streets, gunshots can be heard echoing around Khartoum and the adjacent city of Omdurman while smoke can be seen rising across the cityscape. 
Protests now forming down Africa St in #Khartoum in response to reported coup in #Sudan