'It would be great if more players got vaccinated': Tennis ace Murray backs 'very strict' Australian government rules for unjabbed
British tennis star Andy Murray says he supports stricter Covid-19 conditions for unvaccinated players as the issue of personal choice and vaccine mandates continues to be a hot topic ahead of the Australian Open. Read Full Article at RT.com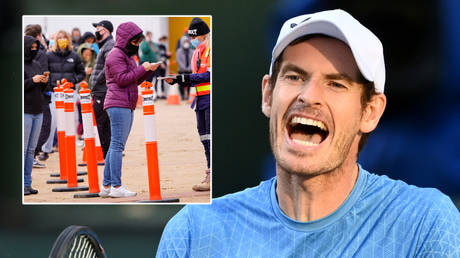 British tennis star Andy Murray says he supports stricter Covid-19 conditions for unvaccinated players as the issue of personal choice and vaccine mandates continues to be a hot topic ahead of the Australian Open.
Victoria sports minister Martin Pakula has said that competitors at the first Grand Slam event of the year will likely have to show evidence of vaccination to play in the Melbourne tournament when it starts on January 17.
That presents a quandary for several of the sport's top stars who are yet to receive their immunization jabs – particularly Novak Djokovic, who is widely thought not to have been vaccinated.
The Serbia star has dominated the Australian Open in recent years, winning the last three iterations and nine in total. Another victory in next year's event would be the 21st Grand Slam win of his career, and would break the three-way tie he currently holds with Roger Federer and Rafael Nadal of 20 Grand Slam wins each.
Andy Murray on Australian Open: "My understanding is if you're unvaccinated you're still allowed to play. You might just have to leave a few weeks earlier than everyone else. It would be great if more players got vaccinated"