'I smashed so much food': Tennis wildman Kyrgios ousts seed in epic return after explicit rant, then predicts end of Covid (VIDEO)
Tennis badboy Nick Kyrgios won an epic-two day match via a rant in his chair telling Wimbledon chiefs to quit cutting their grass "so f*cking short" – then spoke about Covid-19 and his plans in his hotel with his girlfriend. Read Full Article at RT.com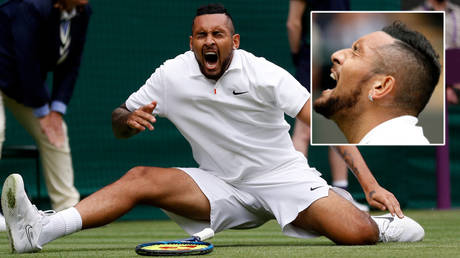 Tennis badboy Nick Kyrgios won an epic-two day match via a rant in his chair telling Wimbledon chiefs to quit cutting their grass "so f*cking short" – then spoke about Covid-19 and his plans in his hotel with his girlfriend.
Devout controversialist Kyrgios had not played a competitive match since an early defeat at his native Australian Open in February, making his return against 21st seed Ugo Humbert a dangerous proposition in his first-round match at the All England Club.
That break of almost five months had clearly extinguished little of the loudmouth's inner fire, producing a lengthy rant about the speed and length of the surface while he sat in his chair during a match that began on Tuesday but had to be carried over because of poor weather in London.
"It started raining and I thought I was going to get canceled, [so] I smashed so much food," admitted the 26-year-old, who has been known to pay trips to bars while competing at the British Grand Slam.
Horrible fall for Nick Kyrgios on Court 1 and he's left rolling around the grass in agony. Up now and looks set to continue… pic.twitter.com/VFmq09R8sS

— George Bellshaw (@BellshawGeorge) June 30, 2021
Nick Kyrgios losing his legs on the tie break set VERY SCARY fall. #Wimbledon pic.twitter.com/DavBTPgcl7

— SERVE AND VOLLEY (@Serveandvolley9) June 30, 2021
"It was a slow start. I was in so much pain this morning, physically – it's been a while since I've played so I honestly just rolled into bed last night, got some sleep and then I was at it again."
After winning the first and fourth sets either side of Humbert hitting back in between, the pair resumed battle at 3-3 in the fifth.
Kyrgios showed the fine form required to narrowly edge out the man who won the Halle Open earlier this month, beating number three seed Alex Zverev on the way to a win in the final over Russian world number seven Andrey Rublev.
Djokovic on Day One: 46-second service game

Kyrgios on Day Two: Hold my Pimm's#Wimbledon | @NickKyrgios pic.twitter.com/U0ooC2Im97

— Wimbledon (@Wimbledon) June 30, 2021
Nick Kyrgios kicks off his first overseas tournament in a while with an extended five-setter. Nice handshake. #wimbledon pic.twitter.com/fpyKFXwBWK

— Tennis GIFs