Cris of life: Ronaldo rushes to check on female steward after 'KNOCKING HER OUT' with misfired shot in warm-up (VIDEO)
Cristiano Ronaldo rushed to check on an injured female steward after she had been struck with a wayward shot reportedly hit by Ronaldo himself as he warmed up for Manchester United's Champions League clash in Switzerland. Read Full Article at RT.com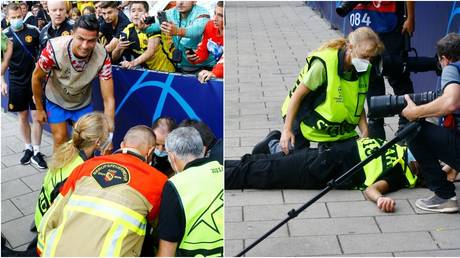 Cristiano Ronaldo rushed to check on an injured female steward after she had been struck with a wayward shot reportedly hit by Ronaldo himself as he warmed up for Manchester United's Champions League clash in Switzerland.
The incident occurred as the Portuguese star prepared for the match against Young Boys at their Wankdorf stadium on Tuesday night. 
Practicing shots from range, the all-time Champions League top scorer misfired and hit the poor steward by accident, according to pitchside reports.